Events at Nassfeld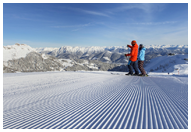 Nassfeld Ski Opening 07.12.2017
Let's start into the winterseason on 7/12/2017!
Yeti Snow Show Nassfeld 14.12.-17.12.2017
Skitesting, DJ, Fashion & More!
Christmas present to all children 24.12.2017
FREE ski pass for kids (born 2003 or younger)
New Year Fireworks 31.12.2017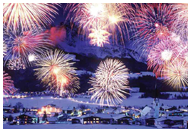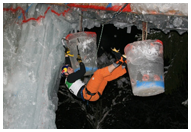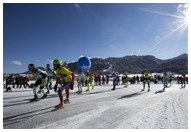 Austrian championships in ice climbing, Kötschach-Mauthen 06.01.2018
The best ice climbers meet at the International Austrian Championship in Kötschach-Mauthen, where a mighty 28 metres high ice giant, also affectionately called "Alpine Stake of Torture", becomes again the meeting point for a special species of alpinists who are on the look-out for an exceptional challenge.

Bouldering on ice
Anyone who tries to go on ice equipped with ice pick and crampon for the first time will find in Mauthen the perfect conditions to learn ice climbing.
Dutch Alternative 11-Cities-Tour 20.10.-03.02.2018
The world's biggest ice sports event with 3000 active participants in speed skating marathons over 50, 100 and 200 km at lake Weissensee in Carinthia.
Beat the BEST - the longest skirace in the world (Schlag das ASS) 26.02.-27.01.2018
The countdown for the longest ski race of the world with 25,6 km and 6.400 metres of altitude "Beat the BEST" at Nassfeld has started again!
Snowman Festival in Hermagor/Möschach at the Lerchenhof castle 07.02.2018.; 14.02.2018; 21.02.2018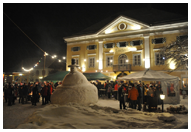 Culinary treats can be enjoyed and a range of hot drinks warm you up around the probably biggest snowman in Austria.
Carnival Parties 13.02.2018
Roast suckling pig, Carinthian Frigga and live music at the Ederhof in Schlanitzen at the "Carnia" slope.
Valentine's Day 14.02.2018
Nassfeld is serving sparkling wine and roses to all ladies on 14th february at the Kofelplatz Madritsche and at Gartnerkofel chairlift (Zur Berghex).
Italian Weekend 24.02.-25.02.2018
Good Vibrations and Schneemann Nassfeld organize the "Italian Weekend" at Nassfeld! A weekend dedicated to the greatest hits of Italian music. The concerts start at 12.00 pm at the Schneemann, Tröglplatz, lower terminus of the Gartnerkofel chairlift. FREE ADMISSION! And the culinary delights are of course also from Italy!
Skibob World Cup Finals at Nassfeld 09.03.-11.03.2018
Experience the world's best skibob athletes in the disciplines giant slalom, slalom and Super-G up close during the Skibob World Cup race at Nassfeld!
Sound of Wine 24.03.2018
Sound of Wine celebrates one of the most unusual wine fairs in Austria. This year in the Nassfeld ski resort for the first time. Austrian vintners present their wines the way they like it best – with celebration and delight!
Easter Treasure Hunt for kids 26.03.-30.03.2018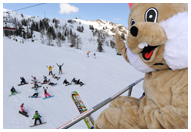 HAPPY EASTER on your skiing holidays in Carinthia!

The Easter Bunny will be around, hiding sweet easter surprises and amazing prizes throughout the ski resort from 26.03. - 30.03.2018.

Find your Nestlé surprise eggs on your Easter holidays!

All children are rewarded for the hunt and get a chance to win amazing prizes. Now get on your skis and off you go!
Full Metal Mountain 02.04.-08.04.2018
April 2018 – this is when the Full Metal Mountain brings Heavy Metal back to the mountains! At the Nassfeld, the biggest ski region of Kärnten, Austria, we will make the mountains rock again for one week!

We rock (almost) around the clock at various locations from the summit to the valley with international established rock acts and exciting new comers! You may select your accomodation according to your preferances among 3 different locations and start celebrating a winter vacation that has never been available before!
Nassfeld Ski & Golf Trophy 08.04.2018
A challenge of the special kind: ski race in the morning and 9-hole golf tournament in the afternoon.

The ski race (2 heats) followed by lunch is staged in the morning. The tee off for the 9-hole golf tournament at the golf course Nassfeld Golf is in the afternoon
Skiclosing Nassfeld 08.04.2018
For further information please check out the website: www.nassfeld.at