Events at Nassfeld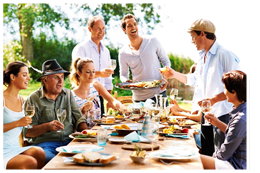 25. Gailtal Valley Bacon Festival 03.06.-04.06.2017
The characteristic EU-protected Gailtal Valley Bacon and other culinary delights are at the centre of the Gailtal Valley Bacon Festival. With music and a lot of highlights. www.speckfest.at
Wulfeniafest 18.06.2017
The legendary Ice Age flower, Wulfenia, blossoms in the Carnic Alps – and this is celebrated during an annual festival. The blue "Miracle Flower" is strictly protected and a popular photo motif with botany fans from all over the world. Celebrate a unique spectacle of nature!
Reitwagen Ranch 2017 09.06.-11.06.2017
For 2017, the successful Reitwagen Ranch meeting has found a new, spectacular home which satisfies the high standards of the ever growing all-road motorcycle scene – Nassfeld in the Carnic Alps www.reitwagen.at
Peakbreak 2017 02.-08.07.2017
Cycling race throughout the alps. Open for amateurs too! www.peakbreak.com
Frigga ohne Grenzen 23.07.2017
Sample the various types of Frigga from Carinthia and the Friuli during our "Frigga without borders" on our sun terrace.
Altstadtparty in Hermagor 19.07.2017, 26.07.2017, 02.08.2017, 09.08.2017
Live music & culinary delights at the Hauptplatz of Hermagor (old town party) on Wednesdays. Free entry! Date in case of bad weather: Thursday
Gailtaler Almkäseanschnitt 30.07.2017
"Gailtaler Almkäse" is a regional delicacy awarded protected status by the EU. The tradition of cheesemaking goes back many centuries in the Gailtal Valley. Today there are 14 cheesemakers in this romantic Alpine valley producing the strong, mature cheese that is famous throughout the region and has been awarded protected status by the EU. www.gailtaler-almkaese.at
Nassfeld Kirchtag 02.08.2017
The Nassfeld Parish Fair is a cross-border celebration for many Carinthians, Friulians and guests. Meeting point is at "Livio's" on the Italian side. From there, the long festive procession moves on to the Nassfeldkirchlein Church where Italians and Carinthians lay wreaths in rememberance of the war dead and celebrate worship together afterwards.
14. Österreichisches Honigfest 12-13.08.2017
Buzzing like a beehive, this is how Hermagor presents itself at the Austrian Honey Festival in August. Freshly extracted honey, with honey refined delicacies, beehive display, an exhibition of historic beekeeper tools. www.honigfest.at
Bergfest 17.09.2017
This summer's series of festivals on Plattner's sun terrace ends with the "Bergfest" on the Sonnenalpe Nassfeld. Local artists entertain the guests and say farewell to summer and welcome autumn.
22. Käsefestival in Kötschach-Mauthen 23-24.09.2017
Carinthia's tastiest corner, Kötschach-Mauthen, celebrates cheese at the last weekend in September every year. The Cheese Festival with around 100 exhibitors, 400 types of cheese and 12.000 visitors has long become one of the highlights among the culinary festivals in Carinthia. www.kaese-festival.at
Kirchbacher Apfelfest 01.10.2017
The market town of Kirchbach invites to the Apple Festival for the 13th time already. Culinary delights with apples, an exhibition of old varieties of apples from the local orchards, an apple press, a schnapps distillery, a flea market for clothes in traditional style and much more are on the agenda.

Gailtaler Krautfest 01.10.2017
The "Gitschtal Valley Cabbage Festival" is celebrated in Weissbriach on the first Sunday in October every year. Local innkeepers use countless heads of cabbage to create culinary sensations. From savoury goulash with Schupfnudeln (small potato dumplings), onions and bacon, cabbage lasagne, cabbage pizza, pasta with cabbage and cabbage strudel to sweet temptations for every taste, there is a suitable dish for everyone.

For further information please check out the website: www.nassfeld.at