Summer Activities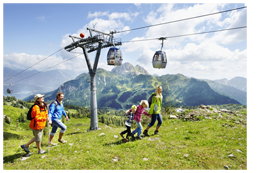 Staying at Chalet Kammleitn in the summer months, will provide you with a wonderful, comfortable base, from which you can explore the warm and sunny attractions of Carinthia. The Alpine Adventure concept has something for everyone, whether you're a nature lover, an adrenaline junkie, or looking for a family holiday.

Being only a few minutes drive from The Millennium Express, you will soon find yourselves at the heart of an adventure!

There are so many bike trails, either in the mountains or in the amazing alpine landscape of the Gailtal and Gitschtal valleys, and again, there are routes for all levels of experience and fitness. The region is a paradise for climbers, with trails at Rosskofel, Trogkofel, Mallurch, Zottachkofel and Garnerkofel, and even a climbing school with mountain guide.
Numerous nordic walking trails await the nature lovers. For those, who need more adrenalin there is a brand new, fixed rope route – pure enjoyment for real rockclimbers. Only for trained people with climbing gear, and helmets. For less experienced climbers, there are guided climbs. At Oselitzen Waterfall you can experience a combination of abseiling and watersports that will get the adrenalin pumping. After a briefing of safety instructions, the guides guarantee you an unforgettable adventure in the mountains.

Even more fun is the Flying Fox Mile, an outdoor experience for all the family, flying from tree to tree over 380m in length, or the NTC rock labyrinth where you can gain experience on the numerous climbing tracks – climb on fixed rope routes, rocks etc, or swing like Tarzan from one tree to another, across gorges. There is also a new 1920 metre long toboggan run. River Gail flows at the back of our garden, when the weather allows you can do rafting or river tubing.

For those wanting a more relaxed holiday, there are the lakes of Presegger See and Weissensee, just a couple of kilometers from Chalet Kammleitn with boats to hire, swimming, mini-golf, Nordic walking. Both lakes boast of water temperatures of up to 25 degrees in the summer, and are beautifully crystal clear. The waterside relaxation is fun for the whole familiy with boats to hire, mini-golf, swimming and much more to try out.