Motorcycling in Carinthia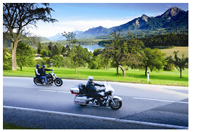 In the summer months, Carinthia, Austria's sunny south is blessed with good weather and is therefore an ideal destination for motorcyclists. Riding between lakes and mountains: from Grossglockner, Austria's highest peak, to Austria's warmest recreational lakes. The many mountain ranges are as easily accessible as they are attractive. Crystal-clear water makes for a refreshing sight time and again – and ideal for stopping for a rest.

The Province of Carinthia is at the interface between Germanic, Slavonic and Romance cultures giving you three countries within a few kilometres, Mediterranean flair, culinary treats and cross-border tours. Breakfast in Italy, lunch in Slovenia, dinner in Austria – all in one day. Discover the diversity of what is now a borderless area.

Carinthia, El Dorado for motorcyclists. Long day tours, travelling up scenic serpentines, on romantic, panoramic routes, and along lovely lakeside roads. The exceptionally good road conditions, excellent signs and rapid response in an emergency add to the attraction by giving you a feeling of safety when cruising on Carinthia's little used back roads.
Route: Grossglockner High Alpine Road
Austria's answer to Route 66
330 km – more than just an alpine pass...
Intermediate tour, approx. 330 km, taking approx. 4-6 h.


To get there, take the B 100, which is the main Drau Valley road to Lienz. In Dölsach turn off to the right for Iselsberg. Here you can enjoy brilliant views of the Lienz Dolomites. Carry on through the Möll Valley, passing roaring waterfalls and Heiligenblut on your way to the Grossglockner High Alpine Road. In Heiligenblut you will find the striking Gothic pilgrimage church with adjacent climbers' cemetery. Then it's up the Grossglockner High Alpine Road built in 1924 – 48 km of pure fun. The first stop is at Kaiser Franz Josefs Höhe (2369 m). Here you have sensational views of Austria's highest mountain, Grossglockner (3798 m), and the longest glacier in the Eastern Alps, the Pasterze. Dozens of marmots play around right beside visitors and with anything like luck you might also see ibex, the mountain goats with impressive horns.

The tour then goes to Hochtor (2503 m) and Fuscher Törl – Edelweisspitze (highest point on the Grossglockner High Alpine Road at 2571 m). Here you have a dramatic panoramic vista of more than 30 peaks over 3,000 metres. The route downhill is via Bruck, Schwarzach and Wagrein to Radstadt. There the next challenge awaits you in the form of the Radstädter Tauern (1739 m): a mountain road almost 40 km in length from Radstadt via Obertauern to Mauterndorf. It is a very good road tempting many a motorcyclist to take it at speed, but that is missing the point – cruising is the name of the game. In St. Michael you arrive at the foot of Katschberg. Now it's up Katschberg (1641 m), through the Lieser Valley, past Gmünd and Spittal/Drau, before returning to your starting point.

Upper Drau Valley – Watschig – Dölsach – Iselsberg – Heiligenblut – Grossglockner High Alpine Road – Bruck – Schwarzach – Wagrain – Altenmarkt – Radstadt – Obertauern – Mauterndorf – St. Michael – Katschberg – Gmünd – Spittal – Greifenburg - Watschig.
Route: Sauris Tour
Spaghetti bends for experts

265 km with never-ending twists and bends – cappuccino is not the only thing on this tour to make your heart beat faster...
Intermediate tour, approx. 265 km, taking approx. 4-5 h.


Setting out from Watschig, you drive to Tröpolach and then up Nassfeld (Passo Pramollo, 1552 m), past Carinthia's largest ski area to Pontebba in Italy. Carry on through the interesting Val d'Aupa to Moggio and Tolmezzo. If you manage to master the quite confusing roundabout in Tolmezzo, take the Ampezzo road and turn off to the right for Sauris. Now you go up a very narrow and twisting road where some of the tunnels are not lit, along the Lumiei Ravine to Sauris at 1400 m (highest altitude village in Friuli). Sauris is a linguistic enclave – here most people speak "de zahrar sproche".

The original settlers came from neighbouring valleys between Tyrol and Carinthia in the middle of the 12th C. retaining the old Germanic language that still exists today. Sauris is also famous for its delicious ham. Raw ham is seasoned with alpine herbs and lightly smoked. Very nice restaurants. Carry on to the pass at Sella di Razzo (Razzo Saddle) turning right at the end of the pass road for Prato and Comeglians to Paluzza. The route then takes you on in the direction of Timau up the good road to the Plöcken Pass at 1360 m and on to Kötschach-Mauthen. There you head north over the Gailberg Pass to Oberdrauburg. Once you turn right here, the remaining route will take you through the Upper Drau Valley towards Greifenburg-Weissensee, over the Kreuzberg Pass (1077 m) and back to Watschig.

Gail Valley – Watschig – Nassfeld – Pontebba – Val d'Aupa – Dordolla – Moggio – Tolmezzo – Ampezzo – Sauris – Prato – Comeglians – Paluzza – Timau – Plöcken Pass – Kötschach-Mauthen – Gailberg Sattel – Oberdrauburg – Greifenburg – Kreuzberg Pass – Watschig.